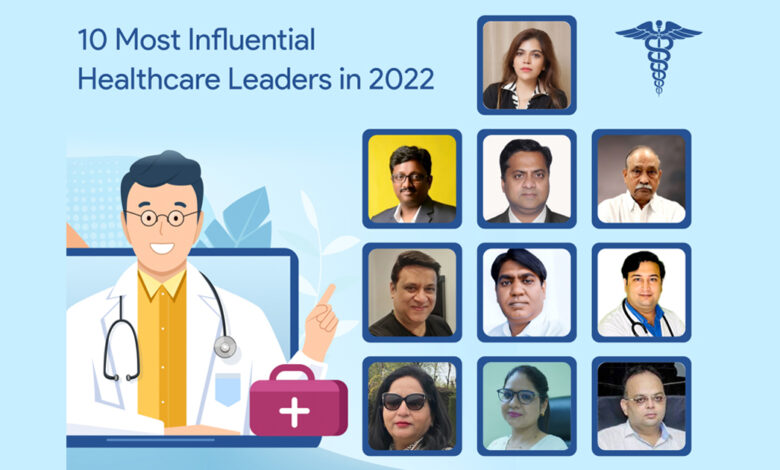 One of the professions that don't really fit into an 8-hour day job are those dressed in white coats consistently making efforts towards saving lives and providing optimal care.
Here we want to highlight the efforts of those devoted to tackling inequalities, reforming healthcare systems, and finding new ways to improve the lives of patients.
Meet 10 Influential Healthcare Leaders from various specializations whose empathy, knowledge, and professionalism have changed the lives of many.
1. Dr. Megha Nagpal- Director & Head of Melocare Wellness
A certified facial aesthetician Accredited her knowledge from Europe/states Dr. Megha Nagpal is the medical director & head of Melocare Wellness Aesthetic center that specializes in facial aesthetics along with exclusive laser, face/body toning, smile designing and non-surgical anti-aging therapies. She is a well-known celebrity specialist who has been featured for her contribution in Aesthetic treatments using state-of-the-art technology and luxurious contemporary therapies.
Dr. Nagpal advocates the idea of safe aesthetics and eliminates any biases that exist against such treatments. Her divine palate revolves around enhancement and modification of one's innate facial features in the most seamless way to achieve that flawless look.
2. Dr. Chandrashekhar Thodupunuri- Founder and Director, Providence Microbiome Research Center
Dr Chandrashekhar is a Cardiologist, passionate about autism and gut microbiome research for personal reasons. His particular emphasis is on the role of the gut microbiome in human epigenetics. He is researching the effect of environmental toxins on the human gut microbiome and its consequence on human epigenetic mechanisms resulting in various diseases. He believes that pesticides, weedicides, industrial toxins, and food adulteration is the main reason behind the rise in autism numbers. He is conducting umbilical cord blood toxicology studies, toxicology studies on pregnant women's blood and meconium studies to explore the uterine environment causing autism. He is also running an ICMR-approved clinical trial, "faecal microbiota transfer therapy for autism".
He believes that faecal microbiota transfer therapy can improve the quality of life of autistic children, and N acetylcysteine in the antenatal program could prevent autism. He is conducting necessary research in that direction. More info: https://gsrt.co.in . Dr Chandrashekhar is also developing affordable special schools for kids with autism through Resplice Autism Research Foundation.
3. Dr. Durgaprasad Reddy – Cardiothoracic Surgeon
An accomplished and a well-renowned Cardiothoracic Surgeon, Dr. Durgaprasad Reddy is the Head of Vydehi Institute of Cardiac Sciences, Bangalore. With a career spanning over 2 decades, Dr. Reddy has performed more than 16,000 major cardiac surgeries for adults and children offering them a hope for survival and better life.
He is also a well-known philanthropist who has conducted several free health screening camps and worked for the welfare of people through various initiatives. Recently, he has been felicitated at the Global Economic Forum Summit 2023 for his impactful contribution in the field of medical sciences as well as recognized by the Governor of Andhra Pradesh during the Global India Business Forum as the Best Cardiothoracic and Vascular Surgeon.
4. Dr. Panna Lal Gupta- Director of PL Gupta Surgical Hospital
Dr. Panna Lal Gupta is one of the most popular General and Laparoscopic surgeons in Uttar Pradesh. He is the director of PL Gupta Surgical Hospital, which is a lifeline for the people of Mau district in Uttar Pradesh and its neighbouring areas. With a view to provide care for both terminal patients and their caregivers, he is currently working on building a 20-bedded terminal care hospital in the district.
Dr. Gupta is a lifetime member of the Indian Medical Association whose efforts in the field of medicine and society have been recognized by various media houses, associations and the state government.
5. Dr Jitesh Shetty- Dermatologist, Cosmetologist & Hair Transplant Surgeon
Dr. Jitesh D Shetty is an acclaimed anti-ageing expert and an award-winning Dermatologist, Cosmetologist and a Hair Transplant surgeon. He is a pioneer in developing the treatment of Hyperhidrosis- a condition of excessive sweating in the palms and soles.
He has developed his own line of Cosmeceuticals & Nutraceuticals which are organic and natural. He incorporates the holistic approach to all his treatments.
He is also a leading Hair Transplant Expert & and specializes in micro dense packing to create amazingly natural hair lines.
His clinic TVAM (www.tvamclinics.com) is a highly modern facility based in Lokhandwala, Mumbai .
The product range goes by the brand name TATTVAM and TVAM BEAUTY KITCHEN.
Dr Jitesh Shetty is a renowned KOL in his field and an acclaimed orator in top conferences and gatherings around the world.
6. Dr. Rajesh Atulkar- Physician & Sonologist
Dr. Rajesh Atulkar is a Physician and Sonologist from Betul district in Madhya Pradesh who is widely known for his passionate work for the backward and tribal areas of the state since the past 2 decades. With his zeal to manage and treat health issues in several hard-to-reach regions of his district, Dr. Atulkar has also worked as a one-man army during the COVID-19 pandemic to reduce the mortality rate of his district.
Recognizing his contribution as a medical expert and change-maker, he has been awarded at several healthcare forums including the Bharat Seva Ratan by Padmashree- Dr. Padmaja Reddy
7. Dr. Prince Kumar Mishra- BHMS MD (Paralysis & Cancer Specialist- Dr. Mishra HomeoTaj Clinic, Prayagraj)
Dr. Prince Kumar Mishra, a successful Homeopathic doctor and renowned Paralysis specialist based in Prayagraj, has cured numerous patients with his distinctive way of treatment through homeopathy. He specializes in the treatment of cancer and paralysis.
Dr. Mishra has taken homeopathy to a whole new level through his hard work and determination. There has always been a myth that diseases like Cancer and Paralysis can't be cured by homeopathy but Dr. Mishra has changed this perception as he is one of the few doctors in the country who can cure paralysis completely and in a very safe way. Dr. Mishra has won numerous awards for his outstanding contribution in the Healthcare sector.
8. Dr. Madhulika Singh- Chairperson, Mayo Medical Center
Dr. Madhulika Singh is a true pioneer in the field of medical sciences, who established the first privately owned comprehensive & multi-specialty healthcare center- Mayo Medical Center in Eastern UP along with her late husband, Dr. K N Singh. Following that, they founded Mayo Institute of Medical Sciences (MIMS) which was the first private Medical College in UP. Under her critical supervision, MIMS has reached exemplary heights today fostering capable medical and paramedical professionals every year.
With a view to encourage learning without boundaries, she provides free medical and paramedical education to underprivileged students and supports them in the journey of becoming capable medical professionals.
9. Dr. Renu Sharma- Microscopic Dentist & Founder of Dant Suraksha Dental Care
Dr. Renu Sharma is a Microscopic Dentist and the founder of Dant Suraksha Dental Care based out of Delhi. She is the first female dentist who started the microscopic and laser-assisted painless RCT therapy in her neighbourhood in Delhi.
She is well-known for her digital smile makeovers and contactless dentistry using the latest equipment and technology in the industry. Dr. Renu believes in the philosophy of 'natural is better' stressing on the minimally conservative approach towards dental treatment. With her expertise in the field, she has been invited to be a part of several national and international dental workshops and seminars.
10. Manish Parakh – Chairman, Lifecare Scan and Research Center
Manish Parakh, a known name in the healthcare industry has a prestigious position in the healthcare leaders list. He owns two healthcare diagnostic centers- Lifecare Scan and Research Center in Durg and Lifecare Diagnostic Center in Bhilai, Chhattisgarh. Both centers are fully equipped with hi-tech machines, and spacious and air-conditioned waiting lounges offering a full range of diagnostic services under one roof.
Recognizing his dedication & contribution to the healthcare industry, he has been awarded the Chhattisgarh Ratna Award by Dainik Bhaskar. He is a great source of motivation for other healthcare leaders who are striving to provide the highest level of care for their patients.