Hospitals
Marengo Asia Hospitals launches 'Marengo Asia Clinics' in Greater Faridabad to bring quality healthcare to the doorstep of residents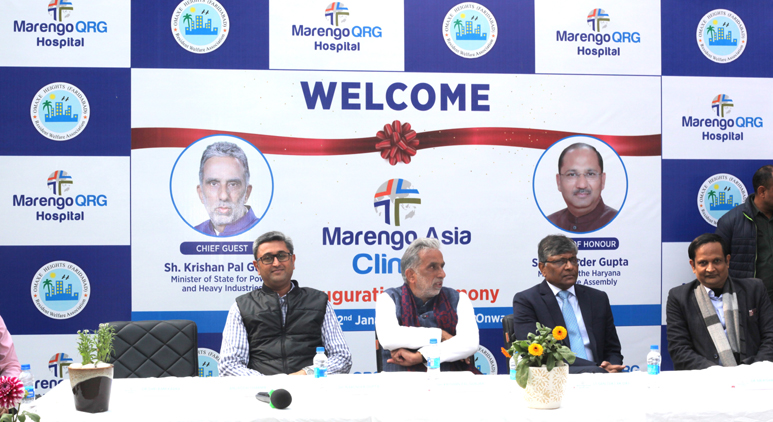 Faridabad (India): With the mission of making societies healthier, Marengo Asia Hospitals today announced the launch of its first 'Marengo Asia Clinics' at Omaxe Heights Society, Sector-86, Greater Faridabad. This super specialty clinic was inaugurated by Sh. Krishan Pal Gurjar Minister of State for Power and Heavy Industries as Chief Guest. Sh Krishan Pal Gurjar was joined by Sh. Narender Gupta Member of the Haryana Legislative Assembly as Guest of Honour, Lt. Gen. Dr. AK Das, Group Medical Director, Marengo Asia Healthcare, Rajeev Goyal, Facility Director, Marengo QRG Hospital, Omaxe Heights Society President Anurodh Sharma at the launch.
The clinic will offer the medical services of senior doctors from various specialties including Cardiology, Kidney Disease, Brain and Spine surgery, Bone and Joint Disease, Chest and Respiratory, Minimally Invasive, Bariatric, GI and HPB Surgery, Paediatrics, Gynecology and Oncology. Free ambulance, nursing care in OPD, free facility of blood sample collection from home will also be facilitated by the hospital. 'Smart Ambulance Service' equipped with a life support system is also available at Marengo QRG Hospital to provide medical care to the patients in just 15 minutes in view of 'Golden Hour' during brain stroke, heart attack and road accident or any other incident. The hospital extends the global expertise and clinical excellence of highly skilled and experienced surgeons performing most complex surgeries in the hospital.
While inaugurating, Sh. Krishan Pal Gurjar said, "The step taken by Marengo Asia Hospitals is highly commendable. With the opening of this super specialty clinic, the society in Greater Faridabad and the people of surrounding area will avail world class health services within hand's reach". 
Lt. Gen. Dr. AK Das, Group Medical Director, Marengo Asia Healthcare said, "Marengo Asia Hospitals strives towards providing optimized quality healthcare to the society we live in.  We believe that quality healthcare is a right of every individual. With this initiative, we hope to bring the best of clinical excellence, the best of holistic treatment solutions to the residents in Greater Faridabad so they do not have to travel distances for best healthcare options. While our focus remains on extending quality healthcare facilities, we will also make preventive healthcare measures as a prime focus for the patients so prevention can become better than cure. With world class facilities at the clinic, super-specialised doctors on a visit, 24×7 availability of nurses, 24×7 ambulance facility available among other health offerings, we hope to keep the health quotient at an all-time high."
Rajiv Goyal, Facility Director, Marengo QRG Hospital said, "Bringing quality healthcare at the doorstep of residents will reduce the travel related stress for them, especially for the senior citizens and children. The launch of 'Marengo Asia Clinics' at Greater Faridabad Omaxe Heights Society is the first step in the direction of providing access to quality healthcare to residents at hand's reach. We are planning to come up with many super specialty clinics at community level in Faridabad city in future."
Marengo QRG Hospital is a multi-super specialty hospital located in sector-16 of the smart city of Faridabad. The hospital is committed towards providing exemplary medical care by following ethical practices and providing International Services for the people of Delhi NCR. The 450-bedded hospital with 400+ doctors provides state-of-the-art infrastructure with Cardiac Cath labs, EPS labs, Endoscopic Ultrasound, Modular Operation Theaters, 3T MRI, 128 slice CT Scanner, Modern Pathology Laboratory, Biochemistry Laboratory, and is competitively equipped to cater to both domestic and international patients.