Hospitals
Robotic Surgery
The revolutionary Uniportal Robotic Surgery for complex thoracic procedures, available for the first time in India at Apollo Hospitals!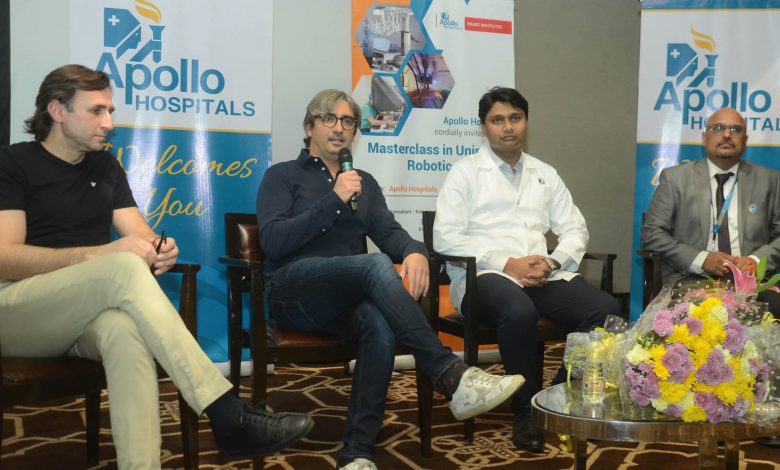 A single minor incision to perform critical cardiothoracic surgeries 
Brings in highest efficiency & precision with unmatchable outcomes
Hyderabad, March 05, 2022: The two-day Uniportal Robotic Surgery Workshop began today. This novel technique is being performed for the first time in India at Apollo Hospitals, Hyderabad. Uniportal Robotic Surgery involves robotic arms performing the surgery through a single 3 cm incision made in the chest. It's a boon for performing critical and complex cardiothoracic surgeries with greater efficiency and precision coupled with the best possible outcomes. These surgeries being minimally invasive, bring down the rate of post-surgical complications, mortality, infections and hospital stay drastically. Uniportal robotic surgery is being performed in select European countries currently and Apollo Hospitals, Hyderabad, is the only facility in south east Asia, with expertise to perform this high-end surgery.
The team of cardiothoracic surgeons at Apollo Hospitals, led by Dr Manjunath Bale, Consultant Robotic and Minimal Access Surgeon, Apollo Health City; is performing the first ever Uniportal Robotic Surgery in the country, in collaboration with Dr Diego Gonzalez Rivas, Robotic and Vats Surgeon from Spain. Dr Rivas pioneered the procedure in September 2021 in Spain and since then he performed it in many countries.
In Uniportal Robotic Surgery, a single minor incision is made between the ribs to insert the camera and instruments into the patient's chest, instead of ripping open the chest with a large incision as is done in a conventional cardiothoracic surgery. The surgeon has a crystal clear, magnified vision of the interior of the patient on a screen and performs the surgery using specialized instruments. The robot has a master slave model which moves in synchrony with the surgeon's movements on the console and replicates the movements inside the human body, Dr Diego Gonzalez Rivas. 
Cardiothoracic surgeries are considered the most risky of all with high rate of post-surgical mortality. Uniportal Robotic procedure ushers in a new era and transforms the way thoracic surgeries are performed. Its surgeon and patient friendly, brings in unmatched precision and unrivalled outcomes, says Dr Manjunath Bale. 
The new procedure can treat several pleural and lung conditions including the most complex surgeries which carried high quotient of risk hitherto with conventional surgery. This procedure presents multiple advantages with much better outcomes. For surgeons the robot enables better control and manoeuvrability of surgical instruments, magnified visibility through 3D view and easy access to the operating area through supple robot instruments, resulting in high precision outcomes. From patient's perspective, each of the chest space has nerves, when multiple spaces are opened for surgery, several nerves are mutilated leading to in intense and prolonged pain, as in an open surgery. A single incision will reduce the number of injured nerves hence is less painful. This minimally invasive surgery reduces hospital stay and expedites recovery due to diminishing complication risks and substantially reduces chances of catching infection. All this enables the patient to avoid long bouts of trauma and get back to work and his normal routine quickly.
Dr Ravindra Babu said, this is a milestone procedure for us, technology has been making immense difference to medical treatment, to benefit patients by reducing trauma from surgery, speed up recovery and reduce hospital stay. This procedure involves making one single aperture, so the trauma is very little for the patient despite undergoing a major surgery. The robot brings about precision in surgery, minimal blood loss, minimal tissue damage enables quick recovery and minimises hospital stay. This technology is now available here in Hyderabad.
Dr Mugurel Bosnceanu, said, this is the first such procedure in Asia and therefore a historical moment. Robotic is no more future, it is today's technology, and it is now available at Apollo Hospitals, Hyderabad.
Leading thoracic surgeons and pulmonologists from across the country participated in the workshop.
About Apollo Hospitals: 
It was in 1983, that Dr Prathap C Reddy made a pioneering endeavour by launching India's first corporate hospital – Apollo Hospitals in Chennai. Now, as Asia's foremost trusted integrated healthcare group, its presence includes over 12,000 beds across 72 Hospitals and 4100 pharmacies, over 120 Primary Care clinics and 650 Diagnostic centres, 700 plus Teleclinics, over 15 medical education centres and a Research Foundation with a focus on global Clinical Trials. The most recent investment was the commissioning of South East Asia's very first Proton Therapy Centre in Chennai. 
Every four days, the Apollo Hospitals Group touches a million lives, in its mission to bring healthcare of international standards within the reach of every individual. In a rare honour, the Government of India had issued a commemorative stamp in recognition of Apollo's contribution, the first for a healthcare organization. Apollo Hospitals Chairman, Dr Prathap C Reddy, was conferred with the prestigious Padma Vibhushan in 2010. 
For 38 years, the Apollo Hospitals Group has continuously excelled and maintained leadership in medical innovation, world-class clinical services and cutting-edge technology. Its hospitals are consistently ranked amongst the best hospitals in the country for advanced medical services.