Technology in Healthcare
mlHealth 360 and Vasudhev Health Tech Unveil Scaida: Groundbreaking AI-Powered Enterprise Medical Imaging Revolutionizing Radiology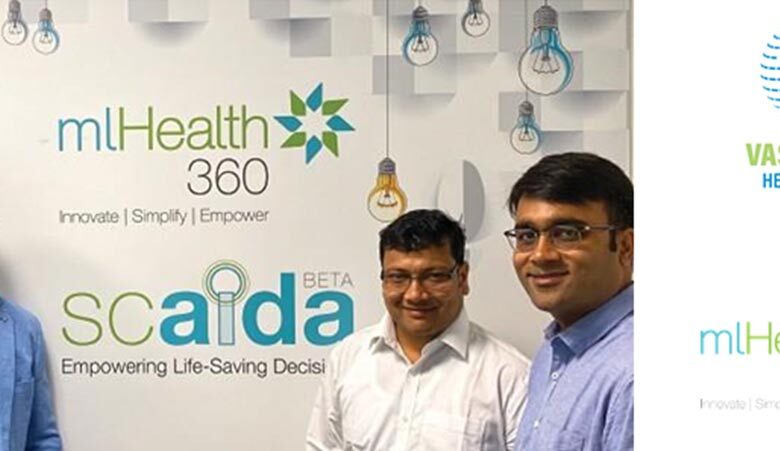 Vancouver, Canada: Today, a new landmark in the field of medical imaging was announced as Kumar Surender Sinwar, CEO and Founder of mlHealth 360, and Founders & Directors Anuj Chandak and Dr. Narendra Gupta of Vasudhev Health Tech unveiled their collaboration with Scaida, a revolutionary AI-powered tool. 
The global AI-enabled medical imaging solutions market has shown significant potential for growth. It was valued at $1,854.5 million in 2022 and is expected to skyrocket to $18,356.5 million by 2032, exhibiting a CAGR of 25.76% during the forecast period from 2022 to 2032. This growth is fueled by the increasing necessity for early detection of chronic disorders, improved clinical decisions enabled by AI, a shortage of healthcare workforce, the continuous advancement in AI-enabled products, and a rising trend in regulatory approvals for these devices.
Kumar Surender Sinwar, a serial entrepreneur and AI healthcare solutions innovator, leads ThoughtsWin Systems and mlHealth 360. His acumen in addressing complex business challenges and driving data-driven solutions has paved the way for transformative business strategies.
The team's most recent endeavor, Scaida, is an innovative AI-powered Enterprise Imaging Platform. It's designed specifically for radiologists and offers comprehensive workflow automation and the capability to auto-populate diagnostic reports, reducing redundancy and enhancing the efficiency of healthcare providers.
Scaida stands out with its capacity to prioritize critical cases, enabling radiologists to concentrate their efforts on the most urgent situations, thus expediting the diagnosis and treatment process for severe conditions, and ultimately, improving patient care.
Scaida's AI models, trained on over 30 million image slices, can identify anomalies in eight anatomical regions. The system is designed for continuous learning from new data and radiologist feedback, allowing the AI models to evolve and improve over time. This keeps the platform in sync with the latest advancements in radiological detection and diagnosis.
Additionally, Scaida eases the technology adoption process for clinics and hospitals by offering migration services. These facilitate the transition from current on-site software to its cloud-based platform, ensuring continuity in clinical history. The platform's cloud-based nature makes it globally accessible, provided there's an internet connection. This flexibility facilitates remote work, an invaluable asset in hospital and clinic settings where radiologists may need to operate from various locations.
The collaboration brings together the diverse skills of Anuj Chandak, Co-Founder & Director at Vasudhev Health Tech, having more than 16 years of experience in healthcare, radiology and infrastructure development, customer relationship management, among other key areas, and Dr. Narendra Gupta, a veteran in radiology with over 16 years of experience. Dr. Gupta, an MD in Radiology from the University of Seychelles and holder of a Diploma in Radiodiagnosis from Rajasthan University of Health and Science, has contributed significantly to the field. His work includes a myriad of accurate and timely diagnoses, research, mentoring, and the publication of numerous articles in peer-reviewed journals.
SCAIDA made an impressive display at Collision 2023, captivating 37000 attendees and 865 investors with its groundbreaking innovations and forging influential connections across industries. The event served as an excellent platform for SCAIDA to showcase its progressive technology solutions and to engage in meaningful dialogues with like-minded peers.
This partnership with Vasudhev Health Tech allows mlHealth 360 an excellent opportunity to demonstrate the capabilities of Scaida and generate crucial case studies. With models trained on Asia-Pacific regional datasets, mlHealth 360 &Vasudhev Health Tech plans to conduct clinical trials for Scaida in 31 imaging centers in India under supervised learning mode, and in near future will work with the Central Drugs Standard Control Organization (CDSCO) to ensure necessary compliance and regulatory permissions.
Expressing his excitement, Sinwar stated, "We are thrilled to be working together with Vasudhev Health Tech on this revolutionary initiative. By merging our AI technology with Vasudhev's radiology expertise, we aim to transform healthcare in India. For more information, please visit www.mlhealth360.com.
About mlHealth 360: mlHealth 360, established by Kumar Surender Sinwar in April 2023, is determined to disrupt the healthcare industry by enhancing quality of life and societal well-being. It deploys the latest AI technologies to tackle critical challenges in the healthcare sector.
About Vasudhev Health Tech: Anuj Chandak and Dr. Narendra Gupta initiated Vasudhev Health Tech, dedicating their vision to revolutionize the medical sphere through high-tech solutions and a patient-first philosophy. Their commitment lies in leading the charge in research and development to foster breakthroughs in diagnostic radiology.