Homoeopathy
National
Two-day conference to be organised on 'Homoeopathy – Roadmap for Integrative Medicine'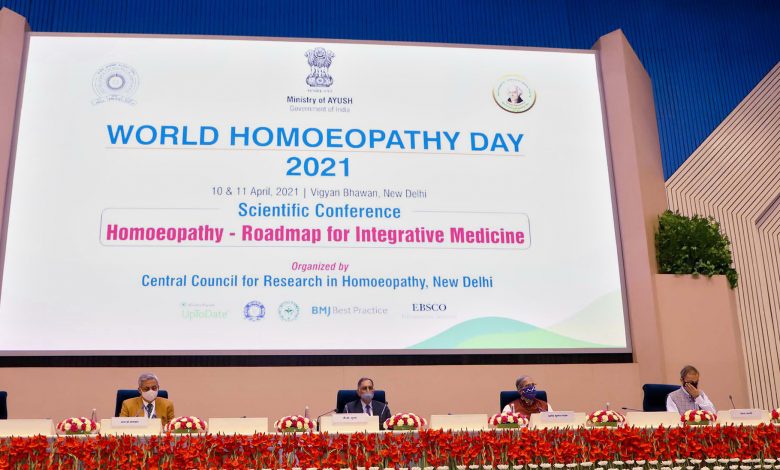 New Delhi : Central Council for Research in Homoeopathy (CCRH) under Ministry of AYUSH  is organizing a conference on Homoeopathy – Roadmap for Integrative Medicine on 10th -11th April 2021, at Vigyan Bhawan, New Delhi on the occasion of World Homoeopathy Day to commemorate birth anniversary of Dr Samuel Hahnemann, the founder of Homoeopathy.
The objective for this conference would be exchange of experience by policy makers and experts to identify strategic actions towards an effective and efficient inclusion of Homoeopathy in integrative care. During the inauguration, CCRH intends to launch the Homoeopathic Clinical Case Repository, a database aimed at compiling cases treated through Homoeopathy from practitioners across the country to build up evidence base towards Homoeopathy. E-library of CCRH would also be launched on the occasion. Publications of CCRH enhancing translation of research to clinical practice and education would also be released.
A Panel discussion following the inaugural session will take place for policy makers on Scope and opportunities for Homoeopathy under the ambit of Integrative medicine in India, the deliberations of which will be attended by policy makers and experts of Homoeopathy.
An exclusive session dedicated toHomoeopathy for COVID – 19 treatment &prevention: research experience where researchers on COVID studies and prominent academicians who will be giving insights into the role of Homoeopathy in treatment and prevention of COVID 19.
Two acclaimed International speakers namely, Dr. Michael Frass, Prof. Medicine, Specialist in Internal Medicine and Internal Intensive Care Medicine, Vienna and Dr. To Ka Lun Aaron, President, HK Association of Homoeopathy, Hong Kong will be joining the Convention digitally to share their experience on Integrative Clinical Care. Also, Dr. Antara Bannerjee Associate Professor, Department of Regenerative Biology and Biotechnology, Chettinad Academy of Research and Education, Kelambakkam will be sharing her research evidence on adjunctive role of Homoeopathy.
The session on Homoeopathy in public health will witness key speakers sharing the success stories of Homoeopathy in public health where the integration has been done at national programmes like National Program for Prevention and Control of Cancer, Diabetes, Cardiovascular diseases and stroke (NPCDCS), Cancer and palliative care initiatives from Kerala state, Geriatric care, community based initiative to curb malnutrition etc.
A ceremony where certificates will be distributed to the awardees of CCRH Short Term Studentship in Homoeopathy (STSH)/ MD scholarship and alsoe-poster presentations by the winners will be held. The winners of the 'Myth Busting in Homoeopathy' video making competition will also be felicitated during the event.
The deliberations of the two-day convention will give insights to a future roadmap to Homoeopathic integration in public health as well as in research.